As a volunteer, musician and artisan, William Waldschmidt was a role model for his time, as well as ours. Beckoned to South Dakota during the Black Hills Gold Rush, he would become a well respected member and contributor to the community he served. In this article, Jill Mounts Marcelli shares the story of her great-grandfather William Waldschmidt, former zitherist and resident of Deadwood, South Dakota.


William (Will) Waldschmidt was born 14 April, 1861 in St. Joseph Missouri to Albert and Johanna Emily Boehmer Waldschmidt. He was the third child and the third son of this union. His siblings were; Robert, Albert, Jr., William and then Lillie (who died young), Theodore and Bertha.
Will Waldschmidt was my great-grandfather. He died a year after I was born, (1935) so I did not ever know him but I have loved him all my life. I heard about him from my grandmother Eva Waldschmidt Cox and from her daughter, my mother, Wyletta Cox Mounts and from my mother's first cousin Lillian Treber Stewart. I have loved these women also all of my life.
William, or Will, came to life for me from the photos we have of him and the stories I was told. He was a kind and gentle man who went out of his way to help others. He loved his family and spent quality time with his grand-children, Wyletta Cox, Lillian and Patricia Treber and Barbara and George Roger Waldschmidt.
Will's parents, Albert and Emily were immigrants to the United States. Albert came with his first wife Agnes Franziska Stampfer and their daughter Fanny on the Ferrier to New Orleans, Louisiana, November 27th, 1849. They settled in St. Louis, Missouri.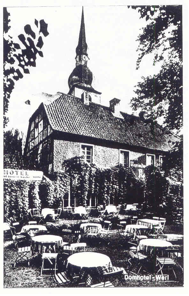 After their arrival in St. Louis Agnes and Albert then had a son Albert, Jr but sadly, within a few years of living in the United States, Albert's whole little family was lost to disease.
Albert was born on the 28th of November, 1818, in Werl, Westfallen, Germany to Dietrich Modestus Waldschmidt and Franziska (Fanny) Smiths. (The Smiths, or Schmitz) line goes back at least to the 1500's.
In the information we have about Albert he was listed, while still in Germany, as a pastry cook. The picture to the right is of a restaurant in Werl, Germany. It belonged to his brother Friedrick, and so it is possible that Albert worked at this restaurant with his brother. (there is a church spire showing behind the building.)
Albert met and married his second wife, Johanna Emilie (Emily) Boehmer (Bohmer) in the St. Louis area. The marriage date was 17 July 1855. Emily (born 24 June, 1834) immigrated from Germany, Kreuzburg, Silesia, (now a part of Poland). Emilie came on the ship "Washington", out of Hamburg to New Orleans, in 1852. She is listed as traveling with some families who have children. Family lore states "she came as a nursemaid with a wealthy family."
The Waldschmidt family moved around; they were married in St Louis City, and the first two children were born there, the next two children were born in St. Joseph, Missouri and Theodore was born in Omaha, Nebraska Territory and two years later, the last child Bertha was born in Franklin, Nebraska.
Albert enlisted in the Civil War at St. Joseph first in the 25th Missouri and then transferred to the First Nebraska in June or July of 1861 for a period of three years. He was discharged at Pilot Knob, Arkansas but taken prisoner by rebel General Shelby and robbed of everything he had by Shelby's men. After being paroled he was escorted over the line bare footed as the rebels had taken his boots and pants. He lay in St. Louis for two weeks with sore feet before he could go home (which might have been Omaha at that time) where he was mustered out with his First Lieutenant Althaus in the winter of 1864. Albert died in May of 1878, at the age of 60 in Franklin County, Nebraska and is buried in Riverton, NE.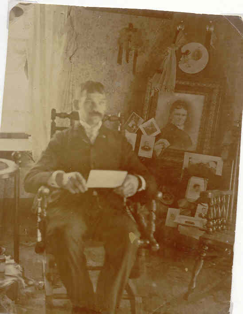 Albert's wife Emily operated a farm in Nebraska and before that some relatives have a hazy recollection of having heard that she also operated a pub or inn at one time (possibly a saloon on Sherman Hill between Cheyenne and Laramie, Wyoming). She finally sold her farm as she spent her last few years in her home in Campbell, Nebraska with her daughter Bertha. She married a second time a Keplinger but it is not known if the marriage lasted. She died the 9th of January, 1911 in Campbell.
The oldest son of Albert and Emily, Robert, Sr. went to the Black Hills of South Dakota in 1875/76 the Gold Rush days. William and his younger brother Theo went to the Hills in 1886. Every member of this family has a great story to tell..
The photo to the left shows Will Waldschmidt with a portrait of his mother, Emily behind him.
The Zither group of Deadwood, South Dakota shows Will Waldschmidt, sitting on the left. The other two members of the little trio are Herman Bischoff and Frank Knopf and they often gave concerts. Will and Frank had the zithers and Herman had a mandolin. Whenever the Black Hills Daily Times mentioned a musical or a band concert, the names of Frank Knopf and Will or Billy Waldschmidt were mentioned.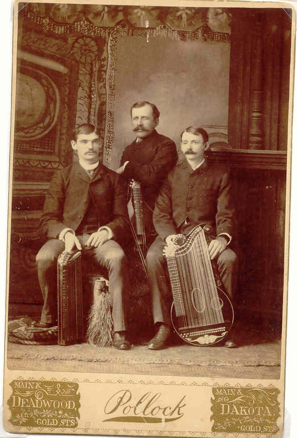 When Will came to the Black Hills he was employed briefly by the Homestake Mining Company but after that he went to work for the Vienna Bakery in Deadwood. Will purchased the Brison bakery which he had been operating for several months and opened his own bakery in 1891 and continued its operation until 1932.
Will was active in Lodge work, a prominent member of the Homestake hose (fire company) and a prime favorite in musical and social circles, and a long time member of Deadwood's local Band, where he played the French horn.
On the 15th of November 1888 he married Miss Lillie B Rogers. Quoting the article in the Black Hills Daily Times: "At the residence of the bride's sister, Williams Street, Thursday evening Nov. 15, Reverend W.H. Buss of the Congregational Church officiating. It is scarcely necessary to introduce either bride or groom to our readers in Deadwood where both have resided so long. William Waldschmidt and Miss Lillie B. Rogers are so widely and favorably known. Mr. Waldschmidt is one of the oldest employees of the Vienna bakers, is a prominent member of the Homestake hose, and a prime favorite in musical and social circles. A more exemplary, industrious and frugal man is not readily named."
"The bride, a sister of Mrs. George Bews, arrived from Wisconsin about four years ago, and has resided in the city continuously with the exception of one winter passed at her former home. She is young, pretty and accomplished; brilliant of manners and speech, with a bright, sunny disposition, winning friends wherever she appears."
"The ceremony" the article goes on to describe the ceremony and continues talking about the ……"presents were received including a unique testimonial from the Homestake boys who so gracefully remember each comrade as he steps from the ranks of celibates"…..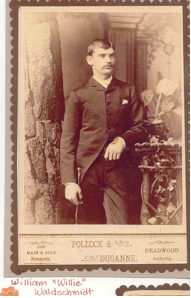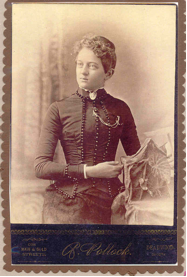 The article goes on to describe the wonderful wedding meal at the Vienna bakery and then it continues
"Mr. Waldschmidt has leased the second floor, Bews' block and as soon as furnished, himself and bride will establish a little home of their own."
On December 1, 1892, the Black Hills Daily Times has this title "Waldschmidt building residence." The article then said, "Will Waldschmidt is building a substantial modern house of eight rooms on upper Williams Street."
Will and his wife had three children, Eva Viola born 1889, Emilia Harriet born 1891 and George Roger born in 1893. A baby girl was born in 1909 and both the baby and the mother, Lilly died. A great tragedy to all.

My mother, Wyletta wrote of her grandfather Will, "The highlight of my younger years was the summer trip to Deadwood. Mostly we went by train and stayed at grandpa's house up on a hill above the bakery. I used to take the path down to the bakery, to watch Grandpa mix and bake his bread. Then he would take us, usually Pat and Lil were there too, in his delivery wagon pulled by a horse. (I can't remember if it was one horse or two.) It was a closed van type wagon and he stopped at grocery stores, as his business was as a wholesale bread bakery. He would always come out with a sack of candy. We made the rounds, Deadwood, Central, Lead. It was always a fun time. Grandpa also used to take us to the Bodega, a famous saloon that is still there on Main Street. It had a real nice dining room in the back."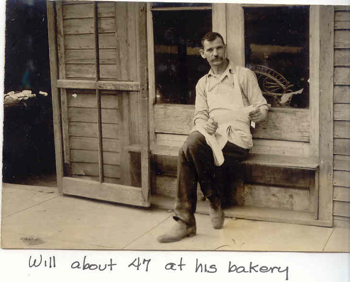 Will's youngest granddaughter, Barbara Waldschmidt, the daughter of Will and Lilly's son George and his wife Mildred, also wrote, " My memories of my grandfather Willie are happy ones. He was a real pioneer and made a successful life as a baker and owned his own bakery many, many years. He was a tremendously kind and generous man and he took care of a number of people and their horses (when they were ill or too old to work). He also made a home for his mentally challenged sister when his mother died. He was great fun to be with, played the zither and for many years the French Horn in the Deadwood band. He did enjoy life and loved to have his grandchildren visit him. He would take me on hikes and feed me fresh bread right from the ovens with big gobs of butter on it!! When he became ill, Evie (his oldest daughter) took him to the Mayo Clinic where they learned that he was full of cancer and had only a few months to live. His death was a great loss to me." (As I'm sure it was to all who loved him.) He died on the 10th of March 1935 and is buried in the Mt. Moriah cemetery, along with his wife, his sister Bertha and sister-in-law Mary Anne Bews, his son George and George's wife Mildred and a still born child of his daughter and son-in-law, Eva and Ralph Cox.


Our sincere thanks is extended to Ms. Jill Mounts Marcelli for sharing the story of her great-grandfather, Mr. William Waldschmidt. There are many other stories of zither players waiting to be told. Do you have one to share? If so, contact us.