During the 1800s, the zither's popularity in America is evidenced by the numerous published accounts of zither concerts, zither advertisements, zither makers and merchandisers. What's not readily available, however, are details that provide insight into the lives of American zither players during this time period. In this article, family historian and genealogist John Maurath shares the story of his great-grandfather Louis "Louie" Maurath, former zitherist and resident of Millstadt, Illinois.


Louis "Louie" MAURATH was born in the last year of the American Civil War, on October 12, 1865, on a 200 acre farm, just north of the town of Millstadt, St. Clair County, Illinois, which is located just a few miles southeast of the City of St. Louis, Missouri. He was the 12th of 14 children born to Felix and Josephine Maurath, 11 of whom lived to adulthood. He was their first child born in Millstadt, the rest having been born in St. Louis. He grew up speaking German and occasionally French at home. German was the language taught in school in Millstadt at that time, but English was also being taught in school and in the community. As an old man, he still spoke with a slight German accent.
Louie's father Felix (1815–1897) came from the village of Unzhurst (old German for "our forest") in the state of Baden, Germany. This was the northern Black Forest, and only a few kilometers away from Strassbourg, France. Felix first came to America as a stowaway on a boat, settling in Cleveland, Ohio, then moving to Chillicothe, then Cincinnati, and then finally to St. Louis in the mid to late 1830's, where he was purportedly a riverboat pilot on the Mississippi river. In 1852 Felix left the river life, and became a drayman, and was later supposedly a wagoner for the Union Army in St. Louis during the Civil War.
In 1864, with the threat of invasion into Missouri and ultimately into St. Louis, by Missouri's Confederate General Sterling Price, and after the death of his oldest son who was killed in battle, Felix decided to move his family across the Mississippi river to the safety of the German immigrant town of Millstadt, where Louie was born, less than one year later.
Louie's mother was Catherine Josephine Jacob (1825–1909), who was born just after the Napoleonic period and whose empress Josephine, was still beloved by many. The Jacob family had also come to Ohio from the village of Vieux-Lixheim in the state of Lorraine, France (the famed Moselle wine region). Felix went back to Cincinnati temporarily, where he married Josephine in old St. Mary's Catholic Church in 1844. They were married again in 1852 at St. Vincent De Paul Catholic Church in St. Louis, after their original marriage record from St. Mary's was supposedly lost.
As was the custom with most Germans (most Europeans) in 19th century America, Felix and Josephine required their children, especially the boys, to study music and to learn to play musical instruments. Felix himself had brought a violin from Europe, a replica of the ones made in Paris by the famous Italian violin-maker Vincent Panormo. This violin, with an actual Panormo label inside, is currently (Spring, 2008) on a 2-year display in the Capitol Museum in the Capitol Building in Jefferson City, Missouri. Also on display in this same historic museum, are several of Franz Schwarzer's ornately hand-crafted zithers, which are actually now owned by the Capitol Museum. Felix and Josephine also believed in higher education, and so all of their sons were sent to college, which was a real feat for large families in the 1800's.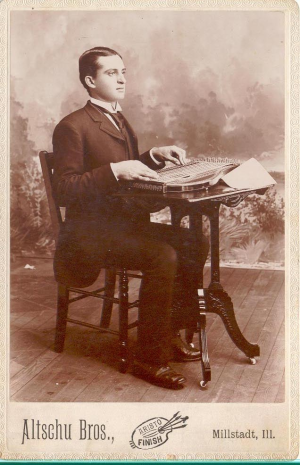 Zitherist Richard Rohr
"Big Louie", as he came to be called, excelled in music, and was sent to the Northern Indiana Normal School and Business Institute, now known as Valparaiso University, and not far from Chicago. It was not only a business school, but also a school for musicians and teachers. There, along with his brothers, he took courses to enhance his knowledge of music, and classes to improve his skills in playing the piano, the organ, the violin and other instruments. Ultimately, he received certificates (degrees) in music, teaching and commercial (business). "Big Louie" especially excelled in playing our favorite instrument, the zither, which became his own favorite personal instrument, and which was ultimately with him all of his life. It's not known for sure if he initially learned to play the zither back home as a young boy in Millstadt, or at Valparaiso. In a 2005 report from Mr. Mel Doering, Archivist at Valparaiso University, a (German) Professor named August Wolf was listed on Valparaiso's faculty list in the late 1800's as "Professor of Violin and Zither, and in special charge of Orchestra".
But since there were other zither players in and around the German communities surrounding Millstadt, it's most probable that Louie initially learned to play the zither at home. Interestingly, Louie's daughter (my great-aunt) Carmelitta "Carme" Maurath–Trueman (1907–2001) and I discussed (for fun) the possibility of Millstadt being the "zither capitol of St. Clair County, Illinois". There were indeed other zither players in and around Millstadt, including Louie's cousin Richard Rohr, who did not attend college at Valparaiso, nor any other school. And, the inspiration for Louie to play the zither, probably came from his father Felix, who, before he left Baden, Germany in 1833, might have heard the mesmorizing music of the traveling zither minstrel Johann Petzmayer. Petzmayer (1803-1884) later became famous for teaching Duke Maximilian Josef of Bavaria (1808-1888) to play the zither, and ultimately became the Duke's court zitherist. Interestingly, Duke Maximilian I of Bavaria was the figurehead leader of Baden during Felix's youth there, and his daughter married the zither player, Duke Maximilian Josef.
While at Valparaiso, "Big Louie", along with classmates W. P. Milliken (guitar) from Bolivar, Polk County, Missouri, and J. J. Williams (violin) from Cross Timbers, Hickory County, Missouri, formed a 3-man college band. The accompanying picture of them was taken in the year 1889, while in school at Valparaiso. Interestingly, this was less than one year after the death of the above-mentioned Duke Maximilian Josef of Bavaria, the famed aristocratic zither player, who was affectionately dubbed "Zithermaxl" by his own people. Until very recently, Louie's zither, which can be seen in this picture, was still in the family. We can't be sure, but his zither was most probably a Schwarzer zither, since Washington, Missouri is only about 60 miles or less from Millstadt. Ironically, no one in the family ever bothered to look at the manufacturer's label inside the sound hole on Louie's heirloom zither, before it was accidentally, unintentionally, and tragically disposed of.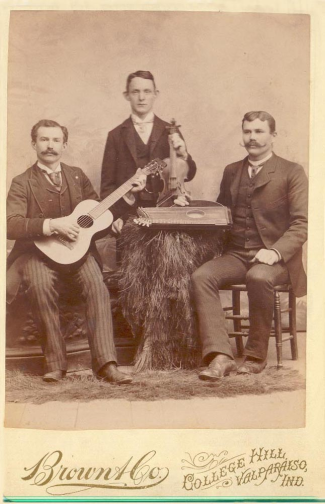 W. P. Milliken, J. J. Williams and Louis Maurath
According to his daughter Carme, Louie probably played the zither occasionally in public at parties, dances, church socials, etc. before he was married, which is actually how he met his wife. Aunt Carme said he would lick his finger and wave it through the air, just before he would begin to play, "and boy, could he make that zither sing! It was so beautiful!" But, Mrs. Jan Stessl of the Chicago Zither Club, questioned this, because without amplification, the zither would have been hard to hear in a crowd of people back then, unless it was played in a quieter, chamber-music type of atmosphere, and/or unless the listeners were quiet and attentive. At any rate, testimony from Louie and his family, and the picture itself, gives credence to the fact that zithers were more popular back at that period of time in American history, and were indeed used in bands back then …… and even in orchestras, especially if Professor Wolf would have had anything to say about it. But even newspapers across America, from the 1850's up until World War I, abound with ads and articles about music stores that sold zithers, about zither clubs, zither concerts, zither soloists, strings and supplies for zithers, zither music, zither instructors, and even short histories of the beloved zither.
On May 1, 1895, 29 year old Louie Maurath married 18 year old Carmelitta "Carrie" Roos, also from Millstadt. Around 1903, they moved to St. Louis, where Louie was employed in the offices of the St. Louis Car Company, a manufacturer of streetcars and railroad cars. Louie was probably a member of the St. Louis Zither Club, which later disbanded some time around World War I. In 1928, Louie's beloved Carrie died prematurely at age 52. In her honor, he shaved off his moustache, and quietly put his zither away, only bringing it out occasionally, to rarely play for family, or when some of his old buddies came around to play cards and have drinks. Six years after his wife's death, his youngest son Leo was killed in a car accident at age 21. After this, Louie became more quiet and to himself, and took on a more stoic demeanor. Before this, he was described as fun-loving, with a great sense of humor. "The smile, which could always be seen in his eyes, was sometimes replaced by the heaviness of memories".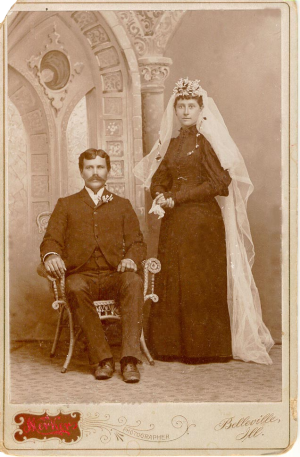 Louis Maurath and Carmelitta Roos
Louie remained a widower, and went on to live a quiet, uneventful life, and retired in the 1930's from St. Louis Public Service Company. According to family, he was one of the first pensioners to receive a pension from Social Security. With more pensive time on his hands, one wonders what Louie thought, after Anton Karas made the zither world-famous in the classic 1949 movie "The Third Man" ?
In 1962, one week after his 97th birthday, "Big Louie" Maurath, the little-known zither player from the small town of Millstadt, IL, passed on to eternity, leaving a quiet legacy of zither music to his family, and a historic photograph to the zither community. The significance of his little-known story, is not only a tribute to his life and his family, but is also a testament to a time in America, when zither music was more prevalent and more popular, and attests to the fact, that there are probably hundreds, maybe thousands of stories of other zither players just like him, waiting to be brought to the forefront. If you had a relative or ancestor who played the zither, please share their story and their pictures with us. Through these stories and photographs, the beauty of zither music will be brought back to its rightful place in the world, so that countless others will have the opportunity to appreciate one of the most unique-sounding, one of the most beautiful musical instruments the world has ever known, but which few people know today.









Source for pictures: From the family collection of Louie MAURATH, which was handed down to his daughter Carme after his death, and now in the possession of Carme's daughter Carolyn Trueman-Weber.
Richard ROHR picture taken Nov. 4, 1894 on his 21st birthday. Richard was the son of Jean-Nicolas & Marguerite ROHR, and a first-cousin to Big Louie. The Rohr's had come to Millstadt from the town of Rimling (near the city of Sarreguemines), Lorraine, France. Richard was an inventor, and had a number of inventions under his belt, including an automated potato digger, which he patented in 1910, and upon which incidentally, one could ride. Richard was so proud of his zither picture, that he would give it as a wedding gift to family and friends, along with the following ornately-scripted verse:

Freundschaft ist wie ein gutes Buch;

Man liest sich darin nie genug

Zwischen Freuden, Leiden, Geschaeften,

Zwanglos erscheint's in losen Heften.

Wir lasen noch kaum das erste Kapitel;

Fortsetzung folgt im nachsten Drittel,

Doch, dass die Seite sich nicht verschlaegt,

Sei hier ein Zeichen ungelegt!
John Maurath is a family historian and genealogist. He is a staff member at the Missouri Civil War Museum at historic Jefferson Barracks ( www.mcwm.org ), and also a member of; the St. Louis Genealogical Society, the Millstadt Historical Society, and the Sunset Hills (Missouri) Historical Society. He also restores old tombstones in old cemeteries, and is a member of the Association for Gravestone Studies. John is a zither enthusiast and loves zither music, and for a short period of time before moving back home to St. Louis in 2003, took zither lessons from the famed Chicago zither player Kathi Kurzenberger. He maintains membership in the Chicago Zither Club. During visits to the ancestral village of Unzhurst, John discovered that Maurath family members there, still play the zither. John Louis Maurath is the great-grandson and namesake of "Big Louie" Maurath, and was afforded the opportunity, as a little boy, to sit on the lap of the antiquarian, and hear some of his interesting stories of old.