Since picking up the zither at the age of 14 in Munich, Germany, it would not be long before Arthur Schatz's musical talents would gain him notoriety. Trained as a model carpenter, he would later immigrate to Canada to practice his profession. Throughout life, he continued to promote friendship and the cultural traditions of his homeland. In this article we remember Arthur K. Schatz Sr., Munich native and long time resident of Oshawa, Canada.


The eldest of six children, Arthur Schatz was born April 30, 1915 in Munich, Germany. Like many households in Germany and Austria, Arthur's household was a musical one. All six of the Schatz children, Arthur (Adi) followed by Anni, Elisabeth (Lissi), Babette (Betti), Laura and Rudi, were encouraged to play an instrument. Arthur chose to play the zither and began to take lessons when he was fourteen years old. The Schatz family held many sing-alongs and their voices were accompanied by the sounds of the zither, mandolin, guitar and violin.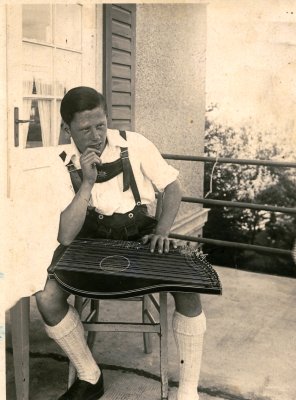 Arthur Schatz in Munich, age 19.
In his youth, Arthur persevered with his instrument. In Munich, his playing began to gain him notoriety. In the 1930s, households in Munich heard Arthur's zither playing over the radio on Germany's "Bayrischer Rundfunk." On Tuesday, February 16, 1937, the radio publication "Bayrischer Rundfunk - Muenchen," in an article titled "Zitherkonzert mit Theater im Jungbraeu," mentions Arthur on three occasions. In the same article, the zither club "Muenchen-Obersendling" is also mentioned and is described as a club with 14 zithers, two violins, three guitars and one cello.
It was not uncommon for talented and aspiring musicians in Germany to also apprentice in a trade. Arthur was trained to be a "Modell Schreiner," which is the craft for making wooden molds for parts. Other musicians followed a similar path: Georg Freundorfer learned the brewing profession, and Alfons Bauer apprenticed to a hat maker. With the events leading up to World War II, however, Arthur's profession and musical aspirations had to be put on hold.
While serving in the German Infantry during World War II, Arthur was also a member of the "Deutscher Alpenverein-Zweig Oberland" from 1942 -1946. This club affiliation likely proved to be a useful distraction for Arthur from the hardships of soldierly life. While fighting in Russia, he was shot in the leg and was later captured by American forces. After his capture, Arthur was sent to the United States to be detained for the remainder of the war inside a POW camp. While a prisoner, Arthur reported being treated very well.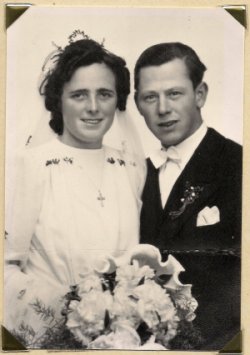 Arthur Schatz and Krecenz Hietmann.
After the war, Arthur returned to Germany for a new beginning. He continued his nature club affiliations and joined "Die Naturfreunde" in 1947. In Munich, he met and fell in love with Krecenz (Centa) Hietmann (b. December 25,1919) and the two married on June 5, 1948. Together they had three children, Eva (1948), Arthur (1950) and Linda (1955). Seeking a better life for his growing family, Arthur immigrated to Oshawa, Canada in 1952 where he continued his profession as a model carpenter with General Motors. Once established in Canada, Arthur's family joined him one year later.
On May 15, 1955, German-Canadians of the Durham Region met to discuss the formation of a club to promote friendship, German cultural traditions and "Gemütlichkeit." From this meeting, the German-Canadian Club Loreley emerged and Arthur was elected to serve as their first president. In June, 1961, building began and the Club Loreley held its first dance on November 18, 1961. A "Richtfest," to celebrate the completion of the club house, was held on December 8, of the same year. Playing Bavarian folk melodies on his zither, Arthur provided the entertainment for numerous club functions, both public and private. His contributions to the club and to his community would not go unrecognized. The Oshawa Times (defunct in 1994) wrote in-depth articles about him on two occasions. The Club Loreley is still going strong and today has grown to well over 400 members.
In 1978, Arthur's division at General Motors switched to computers, a transition that also coincided with his retirement. In retirement, Arthur would continue his passions: playing the zither, working with wood and finding comfort in nature. Arthur was a master woodworker and his family recalls that "...he worked wonders with wood." He would spend many hours working on projects in his home in Oshawa and his cottage on Maple Lake.
In 1994, Arthur passed away at the age of 79 and was put to rest in the Maple Lake Church cemetery, close to the cottage where he had spent many relaxing hours with his friends, family and music. At 89 years of age, Arthur's wife Krecenz joined him in 2009. All three Schatz children are alive and well and remember Arthur as a loving father and musician. His memory is also being preserved through his son, Arthur Schatz Jr., who is now learning to play the zither.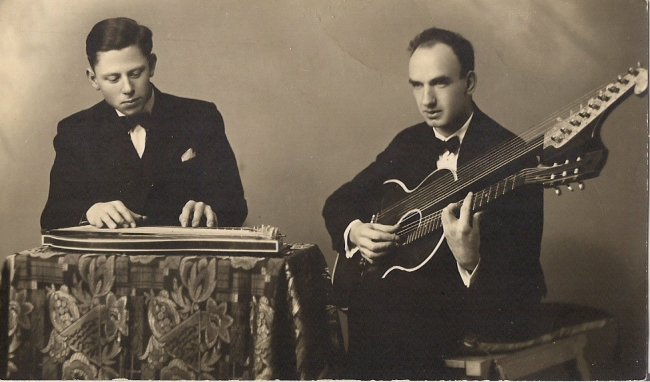 Arthur Schatz plays the zither on a radio show in Munich in 1937. Theo Winter accompanies him on the contraguitar

Thank you to Arthur and Maria Schatz for sharing the story of their father, Mr. Arthur K. Schatz. There are many other stories of zither players waiting to be told. Do you have one to share? If so, email dave@zither.us, or use the provided contact form.