As a youth, Henry Nowak emigrated to the United States from Austria. Growing up in Hoboken, NJ, he found employment as a musician and eventually with Vaudeville where he toured the US and Europe extensively. As a professional musician he was also inventive and mechanically inclined, and with this his creativity found a unique outlet. In this article we discuss the Symphonichord, one of his favorite musical inventions.


Recently, zitherist John Roeder shared some photos with me, passed on to him years ago by Rudy Wacek. Wacek was one of Chicago's most famous zitherists, known for his work with electric zithers. Seeing the images, it's clear why Wacek found them appealing. The collection included images of a musician playing a rather large, amplified zither. The instrument was new to me, and for good reason, as it wasn't called a zither at all — it was a Symphonichord.
The musician, and this instrument's inventor, was Henry Nowak. Born in Vienna, Austria, in 1884, Henry came to the US in the early 1890s with his mother and siblings. His father had arrived a few years earlier to become established and worked as a baker. Together, the family settled in Hoboken, NJ, and as a youth, Henry worked as an elevator boy, and a few years later as a hotel musician.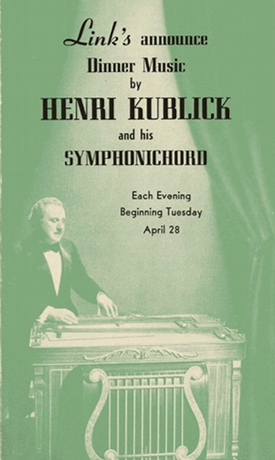 Link's Restaurant menu cover.
Compliments of John Roeder
Playing music in the hotel, Nowak witnessed the comings and goings of strangers and the mystery this entailed. He was eventually caught up in the stream, leaving Hoboken to pursue his music and fulfilling dreams of travel. Nowak found employment in Vaudeville, playing the violin, singing and working under the stage name "Henri Kublick." For a span of over two decades, he traveled extensively throughout the US, overseas in England, France and Australia.
Nowak had a gift of music and invention and the Symphonichord was just one in a series of creations. As a Vaudeville entertainer, he introduced audiences to a number of original instruments that he had devised for his musical program. Among these was called the "human-voiced violin." Reportedly made of aluminum, his invention impressed audiences with its ability to reproduce the human voice. Other novelty instruments invented and demonstrated by Nowak included his "Hawaiian Stringed Orchestra," a single instrument having the effect of multiple Hawaiian stringed instruments. Additional instruments were designed to reproduce the effect of an orchestra, such as his "banjochestrion," which resembled a harp with a concert zither fretboard.
In the 1930s, Nowak seems to have bowed out of Vaudeville, and the demands of travel that lifestyle demanded. From there he moved to entertainment venues in the Chicago area. On the radio, listeners could hear Kublick's Bavarian Ensemble on WMAQ. His ensemble performed regularly in the Bierstube of Chicago's Bismarck Hotel, and he had solo engagements at Link's Homestead Restaurant in Glenview.
While Nowak played traditional Bavarian folk music with his ensemble, a short biography included with the Link's restaurant menu provides a glimpse into the range of music performed on his Symphonichord. According to the brochure, his repertoire included selections from Beethoven, Wagner and Strauss to modern composers such as Irving Berlin, George Gershwin and Jerome Kern.
In his retirement, Nowak moved to sunny Florida and continued to entertain the public with the music of his Symphonichord. As he played through a favorite Viennese waltz or popular selection, he was approached by curious listeners wanting to have a closer look at his invention. Nowak spent two decades refining his electric zither. When asked about his instrument, he explained that it used electrostatic energy to faithfully reproduce the numerous voices of an orchestra – such as the harp, guitar, piano and brass instruments. Nowak had a symphony at his fingertips, the Symphonichord.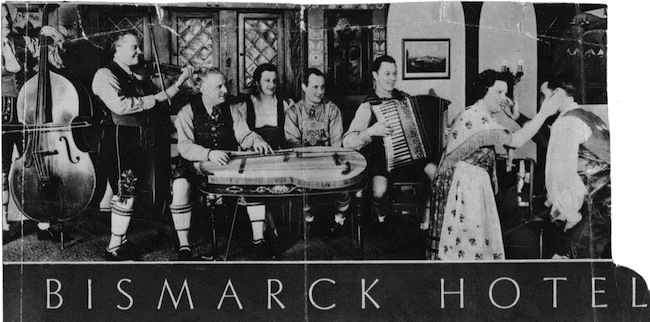 Kublick's Bavarian Ensemble at the Bismarck Hotel. Compliments of John Roeder.


Do you have a zither photograph of historical interest that you would like to share with the community? If so, email dave@zither.us or use the provided contact form.