In this article we explore the life of Adam Kaiser, a zitherist from the Sudetenland. Severely wounded during the Allied invasion of Europe, he was taken as a prisoner of war and sent to Scotland. After the war he was relocated to North Owersby, England, where he married a local girl and provided zither lessons to ten-year old Alan Hankins.



It was the Christmas season and from a small farm house in the village of North Owersby, England, the sounds of a zither could be heard. At a table singing and playing the zither sat Adam Kaiser. Standing close by, looking with wonder was ten-year old Alan Hankins. The instrument was one that he'd never seen or heard before. Alan, being inquisitive, wanted to try his hand at a song. Adam sat young Alan behind his zither and taught him his first song, "Good King Wenseslas." Alan was encouraged, having played his first song on what appeared to be a very complex instrument.
The fact that Adam was there, playing his music and passing down his love of the zither to a new generation, was in itself a Christmas miracle. A German from the Sudetenland, Adam's past several years were punctuated by separation, hardship, severe injuries and captivity. A postwar order had since been established and home was indeed a place to which he could never return.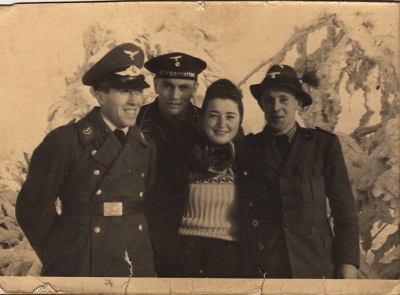 The War Years: Adam Kaiser (r) and friends.
Adam was born in 1923 in a village near the spa town of Marienbad in the former Czechoslovakia, now Marianska Lazne in the Czech Republic. His family was employed in the hotel business; Adam however had different plans. He enjoyed the outdoors and trained to be a forester, hoping to find employment in the open spaces. As an adult, he would sometimes reflect upon his strict upbringing in the Kaiser household. As punishment for misbehavior, he recalled having to kneel on dried peas. A painful ordeal and one that may or may have not dissuaded him from future transgressions.
In 1938, the Sudetenland was annexed by Germany. With the occupation also came the call to service. After receiving his training to be a forester, Adam joined the German army. His bags packed and his zither by his side, he said his farewells to his family and left home to become a soldier.
In the German army, Adam served as a soldier in a mountain regiment. With his unit, he made his way to the Caucasus. On the long marches, he marveled at the landscape and imagined himself living in these new lands, the open spaces reminding him of his desire to join the forestry service. In camp, he would remove his zither from his rucksack, on which he had written his name, service number and ordained with artwork, and would entertain his comrades. Song and the familiar sound of the zither provided some comfort to the soldiers and to some degree encouraged them. He recalled the friendliness of the people he encountered and one can imagine him taking out his zither to play a few songs for a new, appreciative audience. It would not be long, however, until the war became more serious.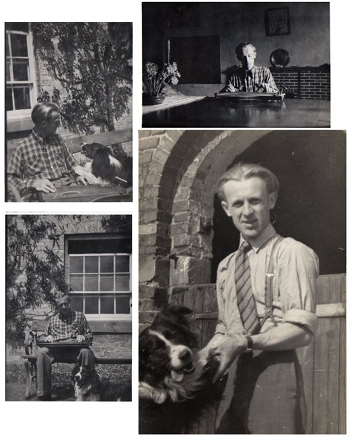 In North Owersby: Adam Kaiser, circa 1950
In the Caucasus, Adam's unit encountered resistance and he was seriously injured in combat. Wounded and unconscious, he was evacuated back to Germany for treatment and recuperation. Once recovered, however, there was no time for relaxation as he was needed elsewhere. From Germany, Adam was reassigned to a unit responsible for defending the French coast against a possible Allied invasion.
The subsequent battle to defend the coast of France was fierce and Adam did not escape unscathed. Once again he suffered serious injuries, this time by a landmine that rendered him unconscious. Waking up, he was surrounded by American soldiers, who may have mistaken him for dead. Now as a prisoner of war (POW), his wounds were treated; his gear was collected and he was moved to the rear of the Allied forces.
Wounded, Adam boarded a ship with fellow POWs and together they were transported across the English Channel. Their destination was a POW camp near Loch Lomond, Scotland. It was in this camp that he remained until the end of the war. With the end of the war in Europe, repatriation was a problem for those from the Sudetenland. Territorial changes, as set forth in the Potsdam Agreement in 1945, required the forced expulsion of millions of ethnic Germans from this region. Adam's father, mother and brother were expelled to Soviet-occupied East Germany. The move proved especially difficult for Adam's father, who was extremely ill during this transition. As his family was relocated, Adam was moved to Willingham camp near Market Rasen, Lincolnshire, England.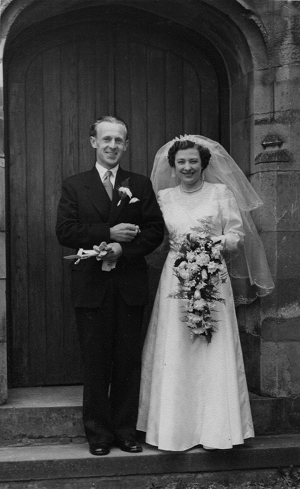 Adam Kaiser and Margaret Hankins.
Prisoners at Willingham Camp were released during the day to assist with chores on the local farms. On one of the farms where he worked, Adam met Stuart Young, a farmer's son. The two developed a friendship and became like brothers. Stuart often accompanied Adam on his frequent visits to the Hankins family. There he would entertain the assembled group by singing and playing his zither. For little Alan's sister, Margaret, these friendly visits evolved into a courtship.
Adam was eventually released from Willingham Camp and was taken in by Stuart Young's family. Here he continued to perform the daily chores as before. On the farm, he enjoyed breaks with his zither, playing songs such as "Zwei Sternderln am Himmel," one of his mother's favorites. The family's sheepdog Roger was a constant, friendly companion. The work outdoors suited him as did caring for his chickens, the threat of predators being a source of anxiety for him on many evenings. He was a skilled wood worker and was often called upon to perform carpentry jobs in the community. Alan, now a zither student, would call on him to make arrows for his bow, which he remembers being "nice and straight."
To get started with the zither, Alan's parents purchased Adam's zither. Adam, on a return trip to Germany, purchased another. Alan made frequent visits for lessons and this private instruction provided him with a strong start. Now he was continuing his musical studies and making great progress; gradually adding pieces by Ernst Spindler, Hans Dondl,Willy Hintermeyer and others to his repertoire. On one occasion, when he was 14 years old, he joined Adam for a number of zither duets at a local church service.
In the RAF: Alan Hankins, age 17
From Adam, Alan would gain more than an appreciation of the zither, he also gained a brother. On April 27, 1954, Alan's sister, Margaret, and Adam were married at Thorton Road Methodist Church. On the farm where he worked, a bungalow was built for the new couple. Their family grew; together they had two children, a son Michael (Mickey) followed several years later by a daughter, Anna.
The condition of his family was a great concern for Adam. Expelled from the Sudetenland to East Germany, his mother Anna and younger brother Ernst had escaped to West Germany and were now living in Ewersbach. His father had already passed away. Adam, Margaret and Mickey would make the journey to Ewersbach almost every year. In 1964, while stationed in Gutersloh with the Royal Air Force (RAF), Alan also visited the Kaisers. He brought along his zither and with Adam's brother Ernst, an accomplished guitar player, the two enjoyed their time together performing duets.
Around 1984 Adam suffered a serious setback. A stroke left his right arm paralyzed, which meant the end of his zither playing. Although he made a partial recovery, the following years proved to be a trying time. Never one to shy away from work, his handicap prevented him from contributing to the level he had before. The inability to work and play the zither no doubt frustrated Adam. His appreciation of music remained intact and Alan became the sole source of his zither entertainment. Alan played the zither while Adam listened, occasionally interrupting if a mistake needed to be corrected. The gift of music he had been given now returned to him as a reward.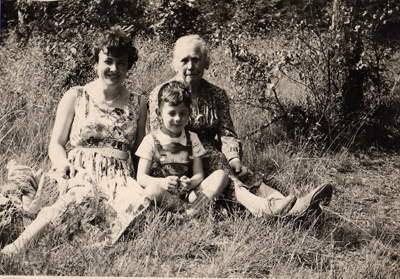 Ewersbach, Germany: Margaret, Mickey and Anna Kaiser
When Adam passed away in 1997, services were held at St. Andrew's Church, Kirkby-cum-Osgodby. His friends recalled the man they knew, a giving soul who tended his garden, cared for animals and loved his music. Stuart Young, Adam's best friend, recollected, "He was always ready and willing to help both individuals or the community, making little of it, if he thought it was appreciated. If however, he felt exploited or taken for a ride, the determination streak in his character would again appear, resulting in a stubborn refusal. He didn't hesitate to speak his mind! A truly remarkable man."
Today, Alan Hankins lives and plays his zither in the town of Scunthorpe, England. Those walking by his home may hear him at his zither, playing songs such as Freundorfer's "Das Veilchen vom Kochelsee." For him, the zither still has its pull and these days he is drawn to Mittenwald, a village rich in zither history. While there, he visits his good friend Reinhold Hornsteiner, who plays the zither regularly at the Hotel Alpenrose. From the Sudentenland to Scunthorpe, and now to Mittenwald, this zither journey continues to be enjoyed.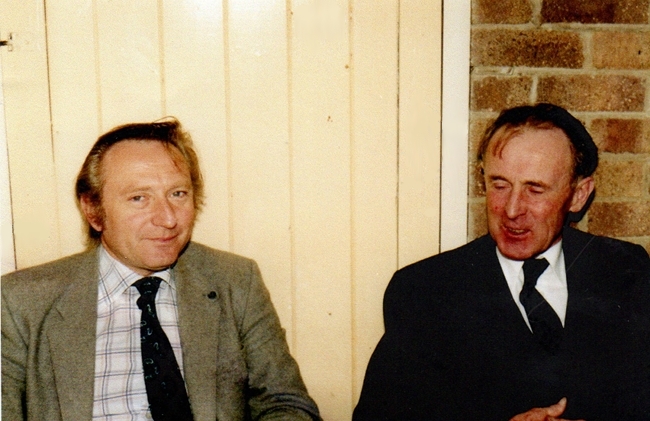 Zitherists Alan Hankins (l) and Adam Kaiser (r), 1981

Our sincere thanks is extended to Margaret Kaiser and Alan Hankins for sharing Adam Kaiser's story. Do you have a story that you would like to share? If so, email dave@zither.us, or use the provided contact form.